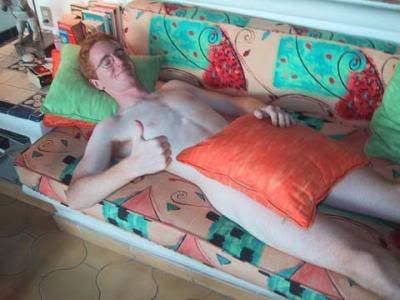 So I'm kind of going a bit antisocial and hermetic, and to propogate the stereotype of nerdish social retards as Anticon's main fanbase (and vice versa), here's a few of some of their tunes keeping me company while everyone else is asleep ...

The Candle - Deep Puddle Dynamics (The Taste Of Rain ... Why Kneel?, 1998)
A classic hip hop tune from just about a decade ago, featuring Slug, Alias, Doseone and Sole rhyming over a solid piano-led Jel concoction... an appropriate reminder of the fact that Anticon was a hip-hop label first and foremost.

A Blindness Falls - Telephone Jim Jesus (A Point Too Far To Astronaut, 2004)
A brief snippet of spritely acoustic guitar and stream of consciousness vocals... a common structure for songs by the Anticon crew, and an almost invariably interestion one.

The Hollows - Why? (The Hollows EP, 2007)
A sinister indie rock anthem, which seems to be the direction Joni "Why?" Wolf is fully committed too at this stage, and one of my favourite songs of last year. Dense metaphor- and image-heavy lyrics, clever progressions and the inimitable delivery of the lead singer make this a tune which fittingly accompanies anything from a walk through the city to a late night vigil over the net.

So there you go. Enjoy em now. Get the albums.